Our Mission Statement
The Mission of Father Bressani Catholic High School is to educate and develop personal responsibility in a Christ-centered environment and provide students the opportunity to reach their potential through Gospel-inspired and International learning experiences in partnership with Church, home and community through a safe learning environment.
Our Vision Statement
We envision our students growing spiritually and intellectually to meet the challenges of a global community.
Our School's Historical Overview
The School had its beginning as part of St. Robert Catholic High School in 1981. It was in September 1982 that Father Bressani Catholic High School began its own distinct life in humble rented quarters in the McConoghy School in Richmond Hill. Although the school had 361 students in grades 9 and 10 at that time, the student body and teaching staff made do with few things during that first year. The Father Bressani school spirit was born.
In March 1983 construction began on the permanent school building on Ansley Gove Road in Woodbridge. In September 1983 students were housed in the first phase of the permanent building. Student enrolment had climbed to 653. By September 1984 with over a thousand students in attendance, the second phase of the building was completed and opened to students. The school building was officially blessed on October 14, 1984 by His Eminence Cardinal Carter. Two years later, the student population had increased to over 1800 students. A twenty-two classroom addition was completed in the fall of 1986. This addition provided much needed space for specialty subjects like drama and music as well as more general classrooms and new student services offices.
With the support of parents, trustees and the general public, we have been able to provide sound educational programs to the students.
The School colours are royal blue, white, and black. The school motto is "Omnia in Christo" (All things in Christ).
Father Bressani Catholic High School – History of Principals
Dan DiRocco: 1982 to 1987
Bruce Shiga: 1987 to 1989
David Lennon: 1989 to 1998
Brian O'Sullivan: 1998 to 2001
Pat DeCaria: 2001 to 2012
Eugene Pivato: 2012 to 2015
Dan Zaroski: 2015 to 2019
Sandra Abate: 2019 to present
Our School's Focus
Father Bressani Catholic High School in 1982
Father Bressani Catholic High School, A School for Global Education in 1995
Father Bressani Catholic High School, A School for Advanced Placement in 2007 –
Father Bressani CHS Celebrated 25 Years May 25, 2007
Father Bressani Catholic High School, A School for International Studies and Advanced Placement Centre in 2009
Father Bressani Catholic High School, opened as a French Immersion school in 2018
Father Francesco Giuseppe Bressani Bronze Sculpture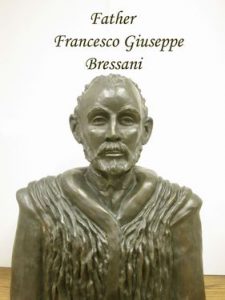 The Artist – Tirzah DeCaria
Presented at the Father Bressani CHS 25 Years Celebration May 25, 2007
Tirzah is an independent artist currently living in Albuquerque, New Mexico.
Her sculptural degree is from Xavier University in Cincinnati Ohio where she
attended school on a full art scholarship.~ Since graduation, she has had her work
in shows and received artistic awards both in the United States and internationally.
She has sculpted bunraku puppets and elaborate masks for the theatrical
stage in Albuquerque.
This is her first large scale sculpture installation and she is delighted to have Father Bressani Catholic High School welcoming her work!