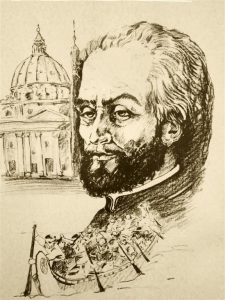 Francesco Giuseppe Bressani was born on May 6, 1612 in Rome. He was to become the first Italian Jesuit priest and missionary to the Canadian Missions.
At the age of 14, Francesco Bressani entered the Society of Jesus. Attracted by foreign missions he left for New France in 1642. After spending time in Quebec, Father Bressani went to Trois Rivieres to work among the Indians.
Not long after arriving, he decided to pursue a more challenging task with one Frenchman and six Christian Hurons into the interior of the country where the Hurons lived. On their third day of travel, Father Bressani and his companions were attacked by a band of twenty-seven Iroquois and their assailants took them as prisoners back to their tribal territory. Father Bressani was weakened, mutilated, and exposed to the most savage tortures when he was handed over to an old Iroquois woman to replace her grandfather who had previously been murdered by the Hurons. Historical records indicate that Father Bressani wrote a long letter documenting all his sufferings to the superior-general of the Jesuits on July 15, 1644. Shortly thereafter, the Iroquois woman sold Father Bressani to the Dutch who treated him well and, by November of 1644, he was able to return to France.
In the autumn of 1645, Father Bressani returned to New France and, with the help of the governor of Quebec, he was able to bring reinforcements to Huron Country. When Father Bressani arrived he found that the Iroquois had burned the mission, killing over 700 Hurons. Father Bressani tried to rebuild another mission in that region but, after much deliberation, it was decided that it was best to bring the the few hundred remaining Hurons back to the St. Lawrence for protection.
Since there was no longer a Huron mission, Father Bressani was sent back to Italy. During his remaining years, up to his death on September 9, 1672 in Florence, he devoted himself to preaching and to his apostolate. In his book, "Relations Abregees", he recorded his discoveries and observations during his eight years of evangelizing in Canada.